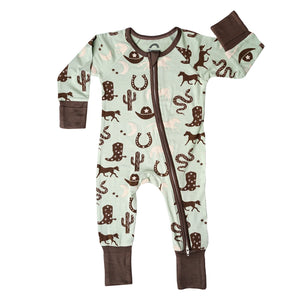 Giddy up! Soft bamboo viscose baby pajamas in our Giddyup pattern! This boho western cowboy print is perfect for Spring and Summer. Check out more with this print for the cutest sibling match!
FEATURES: Our two-way zipper design makes late night changes a breeze. Fold-over sleeves keep baby from scratching, footie grips for crawlers and walkers, and printed neck label and neckline zipper protection for comfort.
BUTTERY SOFT BAMBOO: Our bamboo fabric is exceptionally cozy and soft to the touch with the perfect amount of stretch so your little one can wear each size a little longer and move easily. Bamboo is moisture wicking, temperature regulating, and light and breathable perfect for sensitive skin.
UNIQUE PRINTS: Each piece features an in-house designed stylish print. Our artist designed prints in a variety of trending colors and graphics are what make our garments unique. You won't find our exclusive prints anywhere else.
Color/Print: Giddyup! (Boho Western Cowboy)
Fabric: 96% Viscose from Bamboo / 4% Lycra
Sizing:  0-3M, 3-6M, 6-12M, 12-18M, 18-24M
Fit: Stretchy / Snug
Wash: Machine wash cold / Tumble dry low