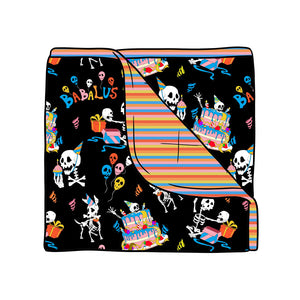 Is there anything more peaceful than a content toddler fast asleep in a warm, silky soft blanket? We all had one at that age — the blanket we just could not separate from. A safe haven, a cozy warm hug, and a favorite nap time companion. Babalus new exclusive bamboo blankets made from custom-milled bamboo viscose, are revolutionizing modern baby blankets to usher in a new era where creativity meets comfort to meet the needs of every growing child.

Featuring exciting designs inspired by the imaginative mind of your little one, the Babalus' buttery soft bamboo blankets boast unparalleled comfort, durability, and breathability while bringing dinosaurs, puppy dogs, and other cuddly creatures into bedtime routine.
Exterior: 95% Bamboo Rayon, 5% Spandex

 
50 in x 50 in; 127 cm x 127 cm

 
Featuring custom-milled bamboo viscose of the highest quality
Captivating double-sided designs inspired by kids, for kids with all of their favorite things
Silky soft feel with 4-way stretch
Hypoallergenic for even the most sensitive skin
Breathable and temperature controlled for any season or environment
Machine wash cold gentle cycle, hang dry 
Bedtime doesn't have to be a hassle. Bring a little playtime and imagination into the routine and your little one will be cozily sleeping as they whisk away to dreamland with their favorite characters.
PLEASE READ:
Please consult your pediatrician if you are unsure when it is safe for your child to sleep with a blanket, blankets are not intended for infants while unsupervised.