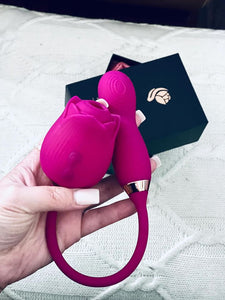 This is our next generation, mind blowing personal massager for women. Double the trouble with the suctioning and vibrating tong, PLUS the G spot vibrator designed to HIT the right spot.
9 thrusting vibration frequencies. Use solo or with your partner. Your s*x life will be mixed with extra fun and passion.
PLEASE NOTICE THAT AS AN INTIMACY PRODUCT THIS ITEM IS NOT ELIGIBLE FOR RETURNS.